Services and Product



---
We are a Land Survey Company that serves the general public, commercial and residential developers, and as well, varied engineering fields. With such, we perform boundary surveys, loan closing surveys, construction staking, field topographies, land planning, land divisions and subdivisions.
We use sophisticated equipment in both field and office operations. This includes but is not limited to... GPS satellite collection for data, robotic transit and distance equipment, along with computer aided drafting and computations. With the latter, our methods are at industry standards, by using AutoCAD for all mapping.
We are based near Waxhaw, North Carolina, which is south of Charlotte. Our preferred travel range is within 25 miles of our base location. Yet we are willing to expand that reach when a project might be justifiable. However the bulk of our work has been in the Pineville, Charlotte, Matthews, Fairview, Monroe, Wingate, Marshville, Waxhaw and Weddington areas of North Carolina. Then also in York, Rock Hill, Tega Cay, Fort Mill, Lancaster, Heath Springs, and Tradesville of South Carolina... all of which are within the 25 mile range and within NC.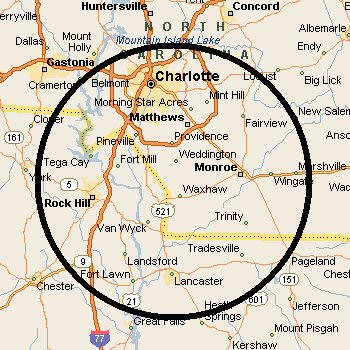 Concerning industrial projects, we have worked on many townhouse and standard subdivision developments. For the general public we have handled their Boundaries and Loan Closing surveys. Likewise for both public and commercial interests, we have considerable experience with large and older properties, and with managing a wide variety of boundary issues. For the Engineering disciplines we have performed extensive field locations and topographic surveys at airports, parkways, and production plants.
We endeavor to be professional, and our intention is to provide each client with the information and product that they expect and need.
Rick Wills, NC/SC PLS

Tel: 704-243-3261
Cel: 704-843-4031

Email: Rick.Wills@MapMakers.biz

Make check payable to:

Rick Wills

Send payment to:

Rick Wills
5524 Davis Rd
Waxhaw NC 28173